WHY CHOOSE US?
Access to our Inspiration Gallery
Contact us today to get access to our Inspiration Gallery, full of samples of our work and get some ideas. We will then work with you on your custom design. Get started today!
Get inspired

No-Hassle Team Stores
We do the work, you raise funds for your program. We create custom art, produce the products and ship directly to your customers. Sit back, relax and rake in the profits. Find out how today.
Learn more
Our Award-Winning Design Team
There is no competition when it comes to our design team. Our designers are unparalleled in the field of merging graphic design with the latest performance fabrics. Contact the team to get started.
Contact the team
Testimonials
We absolutely love our CHiLL-life uniforms! CHiLL-life was able to work with us and our design team to help create a one of a kind jersey that used our theme and logo and still looks sleek on the field. Our players love that when we show up to a tournament there will be no other team with something similar. Look good, play good right?!
Not only are CHiLL-life's designs amazing but their customer service is second to none. They are extremely accommodating to our requests and are able to work with our demands. The turn around from tryouts to first games can be tight and CHiLL-life was able to do a special run of extra jerseys when we were short.
The players and families also love having the pop up at tournaments to check out all the latest gear, win lose or tie, the players are sure to be decked out in the latest athletic fashion.
We would recommend CHiLL-life's services to any team or tournament!

Ashley Means-Bay State Bullets Lacrosse
"CHiLL-life has become the vendor of choice for my company for outfitting teams with uniforms because of the reliability of Beth's service and the quality of her finished product. Over the last thirty years of outfitting lacrosse and field hockey teams, I have come to appreciate which companies deliver and which ones are more talk. CHILL-life delivers in a timely manner through out the entire uniform ordering process."



Chris Stephan Owner, Sartorius Sports
SHOP CHiLL-life SPORTSWEAR
"Live the CHiLL-life."
CHiLL-life offers the funkiest sublimated activewear through dynamic fashion prints on sportswear. Come SHOP today.
shop
SHOP CHiLL-life SPIRITWEAR
Whether it's sublimation, screen printing or embroidery CHiLL-life can meet all your needs with the perfect spirit wear product. Call or Email Today for More Information. 857-205-4064  chill-life@comcast.net
shop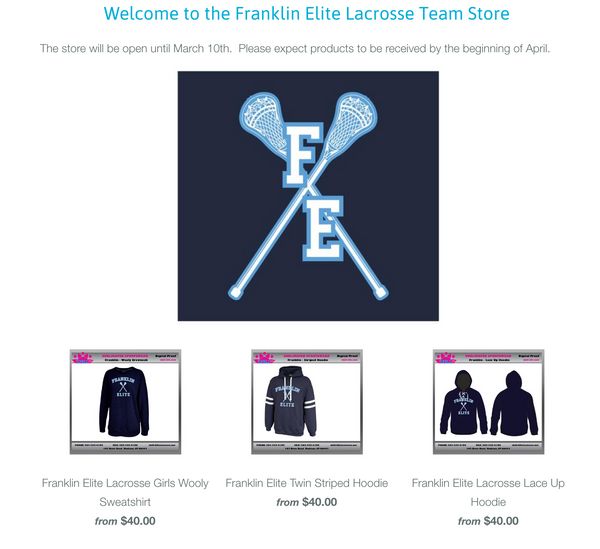 NO-HASSLE TEAM STORES
Earn money for your team!
Let us to create and run your no-hassle team store for your team. Contact us to get started.
Already have a store? Find it here and start shopping.
Team store